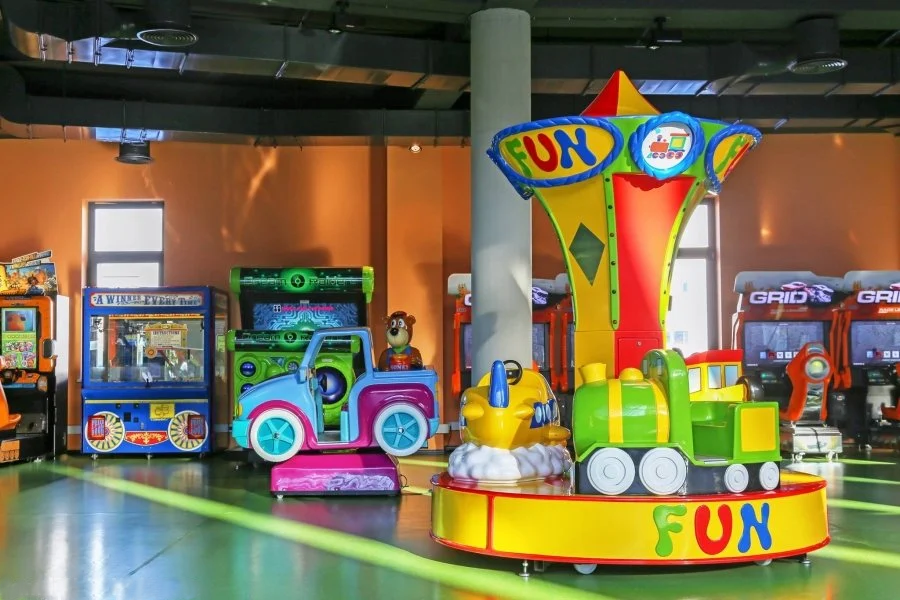 Children's entertainment center "Dakland" is a playground, a lego-room and slot machines.


The playground of the children's entertainment center "Dakland" is designed to rest of active children from 2 to 9 years old. Here they will find a variety of swings, slides, mazes, interesting sites, etc.

Many interesting toys and various accessories which help to derive pleasure and unforgettable impressions of entertainments are offered to the children attention. For children, there is an opportunity to ride on a sled, visit a variety of slides and a trampoline, and two pools filled with colorful balls will give a lot of positive emotions for your children.

Children's entertainment center "Duckland" offers attractions for children and their parents on the exciting slot machines. Here you will feel the speed of rally cars, become a brave police officer, feel yourself like a basketball player or tankman, you will be able to fly to a space trip or play an air hockey - all this and more will offer "Duckland".

For younger children also special safe little slot machines are available such as mini-cars, mini-bike, mini-bus, mini-basketball and multi-colored carousels.

Besides, little visitors will be able to get an unforgettable experience in the lego-room "Fan City". In the lego-room they will be able to actively spend time, to assemble various designers, from the morning till late evening to make whole cities and play their favorite heroes, developing creatively and intellectually. Here kids will be able to give vent to their fantasies and create real architectural masterpieces.

In "Dakland" there are all conditions for carrying out any holiday for the child, especially the celebration of the children's birthday. You will be offered specially prepared variants of thematic game scenarios, taking into account the age of the child, his interests and the wishes of his parents.

The best gift for a child can only be a fairy tale that brought to real life.


Schedule:
Friday, Saturday, Sunday.
From 11:00 to 20:00

Boutique 118,120

+380 (44) 200 97 77